Hindsight is 20/20. As the Golden State Warriors clung to a one-point lead over the Cleveland Cavaliers with over five minutes remaining in Game 7 of the 2016 NBA Finals, Steph Curry got a little too fancy, throwing a behind-the-back pass to a cutting Klay Thompson that went out of bounds.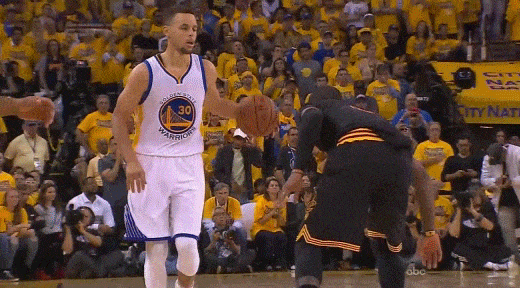 Curry's turnover didn't seem like a huge mistake at the time. However, nearly one year later, Steph admits the errant pass still haunts till this day. "Yeah, I still think about that [turnover]," Curry told ESPN's Chris Haynes. "[But] in thinking about that game, it's funny because I know the concept of making the right play, making a simple play, understanding that there are deciding moments in games and the difference between winning a championship or not could be one of those plays."
After Curry's turnover, his team scored just one basket—a layup by Thompson—for the remainder of the game. While it's impossible to pin the Warriors' Game 7 loss on Steph's foolish decision, it was just one of the many mistakes made by Golden State down the stretch, which left the door open for the Cavaliers to complete their improbable Finals comeback.
With the Warriors just days away from their third straight Finals meeting with the Cavs, Curry is adamant that one bad pass isn't going to force him to change his game. "[With that said,] I came out in preseason this year and threw a behind-the-back pass because I have confidence that I can do it and it won't change that," he said.
Send all complaints, compliments, and tips to sportstips@complex.com.
Please follow and like us: