via Complex
Vegas odds enrich sports storylines. They add color and clarity to each narrative, letting us in on which team the general public favors and how greatly the public favors that squad: Is one team the clear favorite? Is the line gray?
In the case of this year's NBA Finals, basketball fans are not torn. Though the Cavaliers beat the Warriors last year, Golden State is the decided favorite to claim the title.
In layman's terms: The Warriors have a 68.75 percent chance of winning, according to bettors.
We all know this makes sense. They were 16 wins better than the Cavs this season. They're the 2K squad; they have perhaps the most talented starting lineup in NBA history. Steph, Klay, KD, and Draymond should end up hoisting the Larry O'Brien Trophy.
But, as sports fans have seen time and time again, the better team on paper doesn't always come out victorious, and you may talk yourself into betting on the Cavs. They did it last year…they won on Christmas Day…this is a career-defining moment for LeBron…Steve Kerr is out.
If you listen to that voice, you'll lose your money. Here are five reasons Golden State is going to win this series.
1. They're deeper.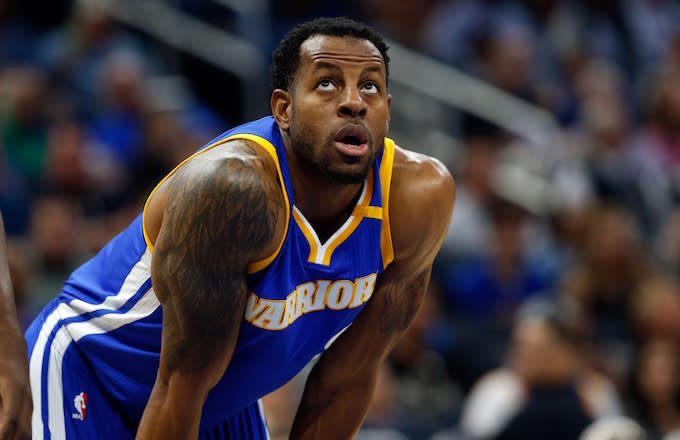 The playoffs are impacted every year by injuries and key players being limited or missing games. Think of Kawhi Leonard against Golden State, Isaiah Thomas against Cleveland, or Steph Curry throughout last year's postseason. If a star gets hurt, the next man up has to be ready to fill that void.
Though Cleveland and Golden State have both been fortunate health-wise so far this postseason, if something happens to a key player, Golden State has better depth to account for it.
Cleveland has bigger names on its bench (Deron Williams, Channing Frye, Kyle Korver, Richard Jefferson), but Golden State's less-heralded crew has been more impressive and more imperative this postseason.
Golden State's bench players have played 17.8 minutes per game while Cleveland's have played 14.6. They're both shooting the lights out (53 percent for GSW's bench, 49.4 for Cleveland's), but the Warriors' bench has been better on defense, on the boards—where the Cavs' bench has been notably poor—and overall. Ian Clark has been particularly good in a larger role, and Andre Iguodala remains vital on both ends of the floor though his shot has been way off.
Furthermore, on a pragmatic note, Cleveland has three stars and Golden State has four. Golden State has more firepower but has also balanced the load well among its other pieces. Golden State's top four players have accounted for 69 percent of their offense, while Cleveland's have accounted for 71 percent.
If something happens to LeBron, or Kyrie or Kevin Love gets hurt like they did in 2015, this series is all but over. If one of Golden State's stars go down, they still have a shot.
2. They're rested.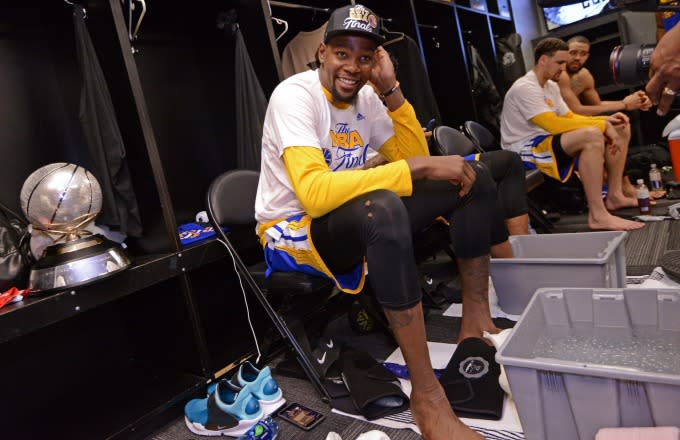 Golden State was worn down in the Finals last year. The quest for 73 wins was clearly exhausting. We saw the Warriors collapse physically and mentally.
Steph started throwing his mouthguard and ill-timed behind-the-back passes, Festus Ezeli disappeared, and Draymond started punching people in the balls. The Warriors' shooting plummeted throughout the series, too, going from an FG percentage average of 54 in the first four games to 47 in the final three games. When your shooting gradually drops off throughout a series like the Warriors' did, it's almost always a sign of fatigue.
GM Bob Myers and coach Steve Kerr played it smarter in the regular season this year. They didn't chase records. They rested their stars. Steph, Klay, and Draymond played fewer minutes and shot less. In a recent interview, Steph's brother Seth confirmed the Warriors' stars conserved their energy this year. Kevin Durant's usage numbers went way down as well, as to be expected.
With a healthy and well-rested core, Golden State is fully loaded for this series.
3. They have home-court advantage.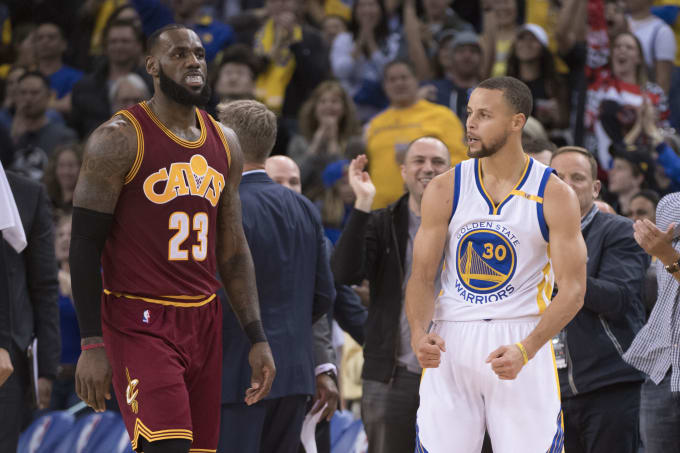 The Cavs and Warriors were both different teams at home and on the road this season. Cleveland had a losing mark on the road (20-21), while Golden State's 36-5 record at home was easily the best in the league.
They played twice this season and split the series, with the home team winning each game. Since LeBron returned to the Land, the Cavs and Warriors have played 10 total times in Golden State, and the Warriors have won seven of those matchups.
4. They're better than they were last year.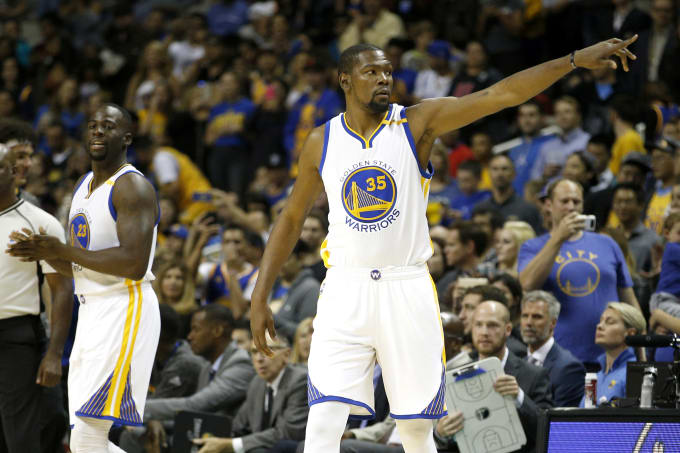 I got in a Stephen A.-esque barbershop debate about this. My barber can cut with the best of them, but his claim that Golden State had a better roster last year was nonsensical. Yes, they amassed more wins last year—because they played it smart this season and valued a championship above the all-time win record.
Look at the numbers. Their offensive rating of 114.5 was best in the NBA last year—and it went up this year, to 115.6. They shot 48.7 percent from the field last year (49.5 percent this year). They're forcing more turnovers per game and committing fewer themselves. They played a tougher schedule, too (22nd most challenging in the league this year, 28th last year).
Yes, the Warriors had Andrew Bogut, Harrison Barnes, Festus Ezeli, and Leandro Barbosa last year. They were a fine crew, but those guys averaged 16.4 minutes per game in the Finals. Bogut and Ezeli were non-factors.
Barnes, who is valued as the most imperative now-missing link, the "glue guy," put up 9, 4 and 1. The enigmatic forward shot 35 percent from the field and was ice cold from three. The Cavs' strategy was basically to leave him open around the perimeter. Barnes is a fine player, and it's not fair to judge him on one bad series, but his value is far inferior to that of Kevin Durant, the 2014 MVP who's playing as well as he ever has. And the Warriors' "fill-in" cast—guys like JaVale McGee and Ian Clark—may not jump out at you on paper, but they've been outstanding when called upon.
Golden State's loaded offense, which has improved this season, should feast on Cleveland's subpar defense, which has gotten worse.
5. They have extra incentive to want it.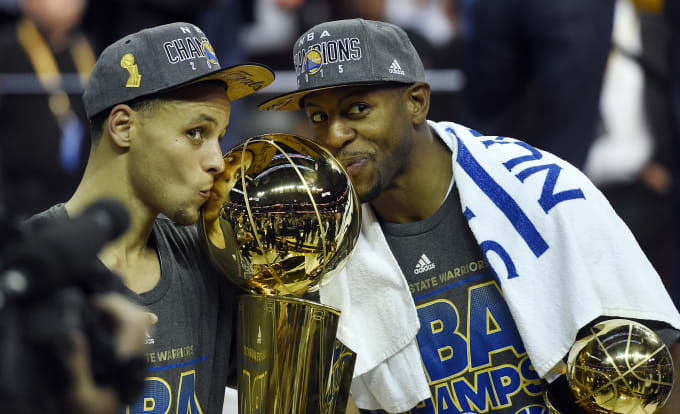 Never underestimate the mental edge that simply wanting it a little more affords.
The Warriors were the league's golden child for a couple years, but last year the script was flipped. In the playoffs—and particularly afterward, when they signed Kevin Durant in the offseason—fans started rooting against Golden State. Now they're The Villains and it's cool to hate Golden State.
So, somehow, although they have the more talented roster and the better track record, the Warriors also have the nobody-believes-in-us edge. They've embraced it. The ghost of blowing a 3-1 lead still follows them, and this squad wants to beat the world.
Their anger has marinated as the Cavs have repeatedly egged them on this year. Expect Golden State to play with venom in this series.
So, yes, the Cavs won the series last year. It's a different year with different rosters, and the Warriors have taken a wiser approach this season.
Yes, the Cavs won on Christmas Day—by 1, at home. When Golden State played Cleveland at home later in the season, the Warriors won by 35.
Yes, this is a career-defining moment for LeBron—but it is for Kevin Durant, too, and LeBron can't beat this super team himself.
And, yes, Steve Kerr is out—and how exactly have the Warriors done without him this postseason? (They're 12-0.) And how did they do when he was out for the first 43 games of 2015-16? (They went 39-4.)
Don't overthink it. Go with the better team. If you're betting on the Cavaliers, congratulations: You played yourself.
Please follow and like us: